Easy time clock software for accurate timesheets and instant payroll every time
View and manage digital employee timesheets equipped with GPS location, face recognition and much more
Try it free
No credit card required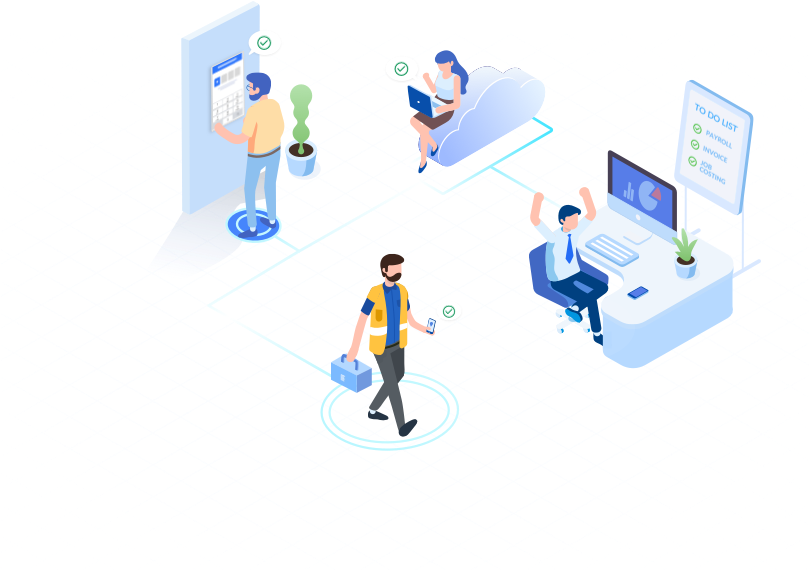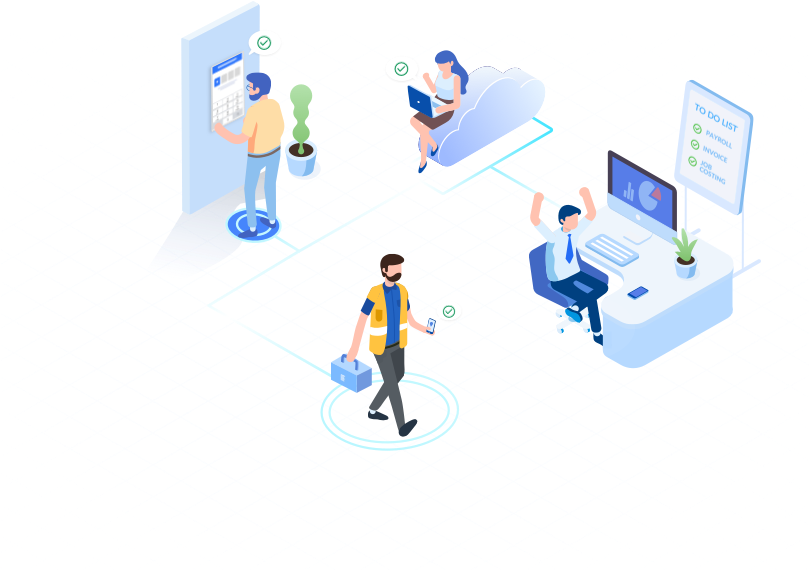 Turn any device into an employee time clock

SWIPE TO VIEW MORE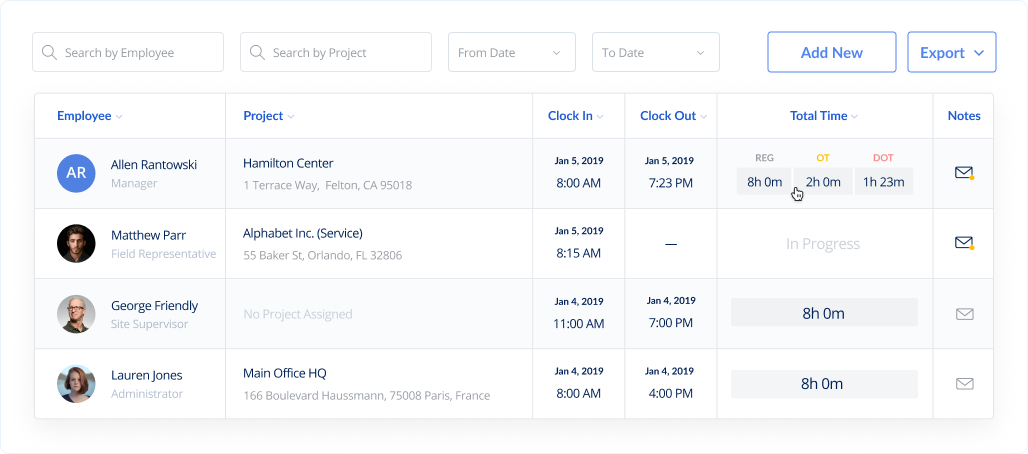 Employee time tracking with insights
Project / Job Costing
Track job costing with detailed employee timesheet records including, to-the-minute time and GPS location stamps. Analyze and forecast labor costs across multiple sites with our 1-click reports.
GPS Location
Track project and job site attendance in real-time with our live-map dashboard. Cloud-based timesheets with GPS location ensure employee timetracking is more secure, accurate, and detailed than ever before.
Face Recognition
Eliminate time theft and buddy punching with just a few clicks. Face recognition settings require employees to clock in and clock out with photo verification. You can apply this settings to all, some or none your employees.
Instant Payroll Reports
Review and approve timesheets for any payroll period. Generate detailed payroll reports with just one click to PDF, CSV, or export directly to your payroll provider.
DCAA Compliant Audit Log
Ensure document integrity with cloud-based precision. Every employee timesheet comes equipped with a DCAA compliant audit log which tracks and records the source, date and time all timesheet data and changes.
See how it works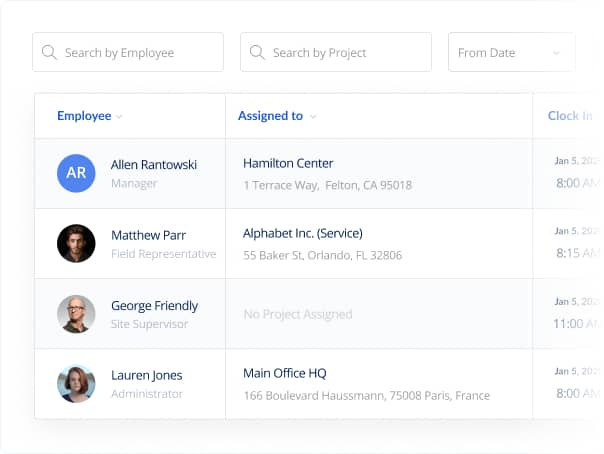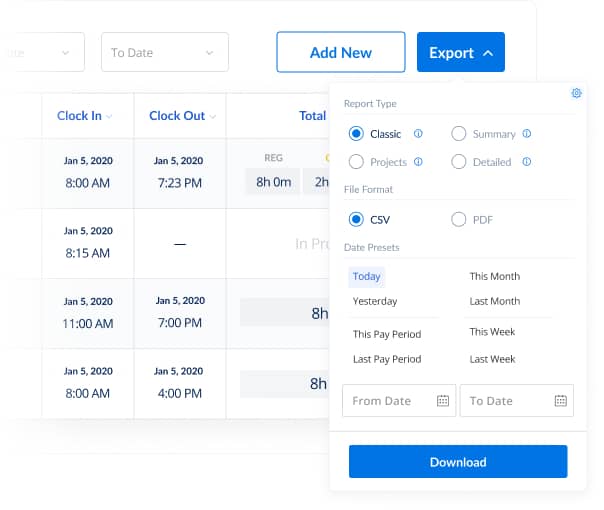 Optional Face Recognition
Settings requires employee photo at clocking in/out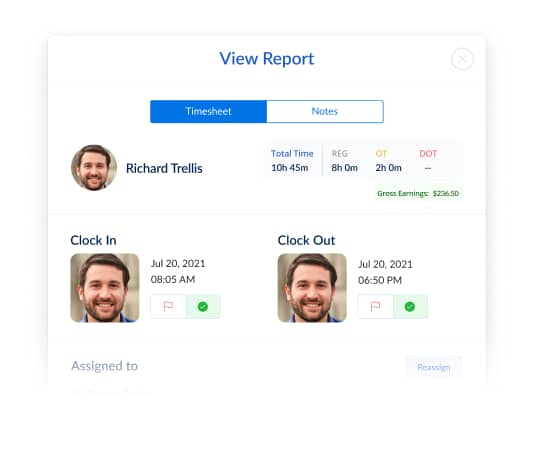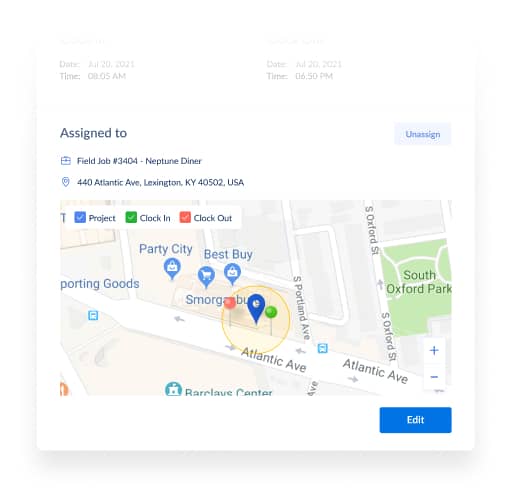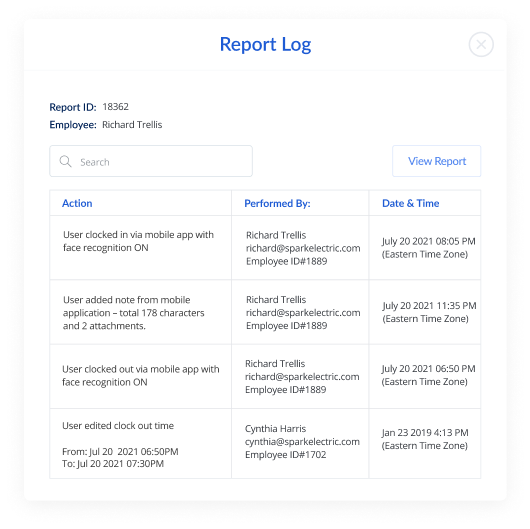 Labor law compliance made simple

Rounding
Enhance your payroll and record accuracy with custom rounding rules for your timesheets

Overtime
Implement your company overtime policies to auto-generate FLSA compliant payroll reports.

Breaks
Create simple break entries for your team to ensure local labor law compliance

Time Off
Easily configure time off policies, track accruals and view requests for paid and unpaid time off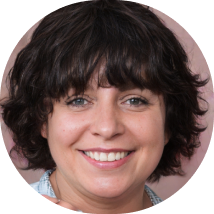 Ashley Gellerman
Payroll Adminsitrator
It feels great to be one step in front of payroll every week, and its one less thing to think about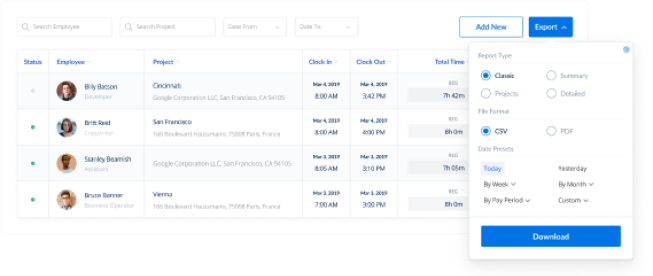 Businesses save time and money with ClockInEasy

Construction & Trades
Manage employee time across multiple job sites and projects with accurate cloud-based timesheets & attendance management.

Medical & Healthcare
Keep your finger on the pulse of your business with real-time timesheets and employee activity.

Hospitality & Retail
Track and manage employee time accurately, no matter how many sites, stores, or work shifts.

Cleaning & Janitorial
Ensure employees show up on-time and in-person at the job site with accurate, GPS-backed timesheet records.

Security & Logistics
Manage multiple shifts with location-backed timesheets for secure in-person attendance management.

Staffing Services
Manage distributed workforces with varied rates, schedules, and project sites for detailed job costing insights.
Start saving today
SIGN UP FOR A FREE 14-DAY TRIAL TO START TODAY
Trusted by Industry Leaders








Simple pricing with real savings
Annual Subscription
Save 20% with an annual plan
Try it free

No more messy excel spreadsheets, ClockInEasy is the way. If I ever need any assistance they are easy to connect with and happy to help.
Bobby Chawlin
Owner and Operator | Brooklyn, NY

Managing time and attendance at 14 stores became simple and clear with this software. Easy to install on a tablet and ready to go.
Scott Kerro
Multi Store Owner | Orlando, FL

Our stores run payroll reports every week in just a few minutes, and employees can easily see their hours on the app - its a win-win.
Stephanie Guerra
Franchisee | San Diego, CA
Starting at $4 per user, per month
Cheaper than buying your employee coffee and a donut